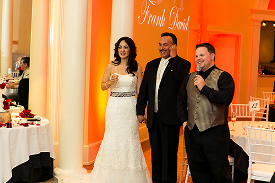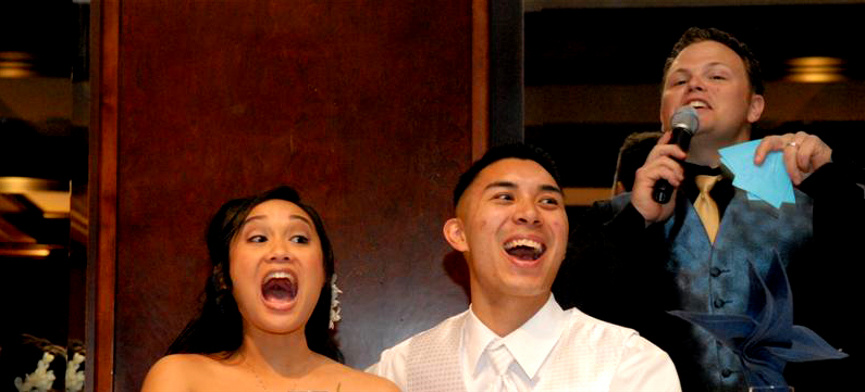 As founder of Creative Memories Entertainment, Michael has proven himself to be one of the most requested DJ's in the Sacramento area. In 1996 Michael started his career in weddings and fell in love with it.
"This day isn't about me, it's about my couples. What I do for the event is to create an atmosphere that reflects my clients, and enables every one of their guests to celebrate with them on their wedding day" - Michael Anderson
Performing for over 1000 weddings in his career of 17 years, Michael has received rave reviews about his professionalism and service. In the summer of 2003 Michael became an ordained minister so that he may further his research in the history of weddings and traditions behind them.
In 2008, Mike was the first public member to be accepted into the Wedding Entertainment Directors Guild R.
Becoming a "certified" Wedding Entertainment Director is a monumental achievement that represents the highest attained level of academic standards available in the wedding industry. Wedding Entertainment Directors possess a unique level of qualifications and acquired skill set derived from extensive advance level training and education in the fields of event planning, coordination, entertainment, creativity and customer service.
Mike has also been featured in the nationally acclaimed wedding book "The Best Wedding Reception...Ever" for his unique ideas and creative guest's involvement.
Mike Anderson - Wedding Entertainment Director
Desingned over 1,000 Weddings that were unique to the couple
Over 2,500 events providing entertainment
20 years expierence in the wedding industry
Certified Wedding Entertainment Director
Beveryly Clark Certified Wedding Professional

Attended over 50 national DJ training conferences

Provides national training for DJ's & companies all over the world
National Speaker for the Las Vegas DJ Show
Improve Training
Toastmasters Training

Engineer and "On Air" Host for Power 105.5
Mix Show Host for Club 105 KNCI
Resident DJ for McGee's Bar & Grill 2001-2005
Resident DJ for Classic Juke Box, Sacramento 1998 - 2003
Resident Dj, Program Director - Dance Ranch, Rocklin 1996-1999
Resident Dj for Rugby's in Marysville 2003-2005
Winner of the 2013,2014,2015 & 2016 Style Readers Choice Award
Winner of the 2012,2013,2014,2015 & 2016 Wedding Wire Awards